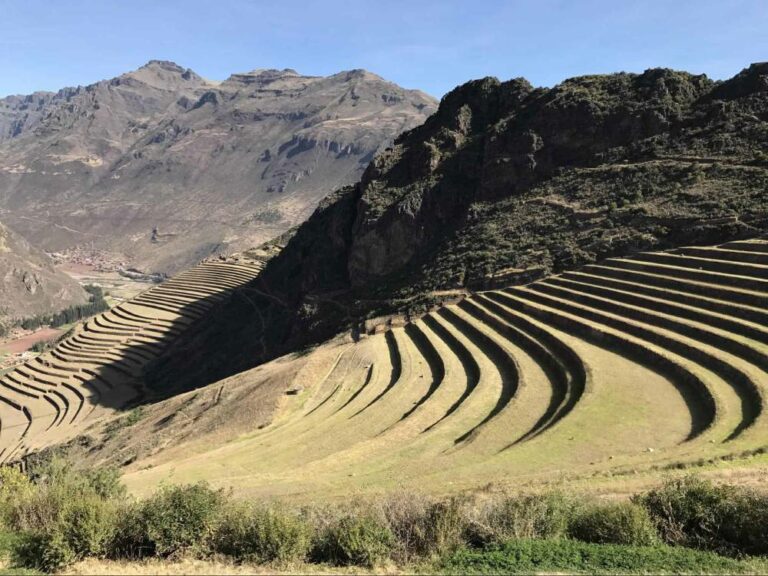 What is The Sacred Valley in Peru & Things To Do
The Sacred Valley is a stretch of the (Vilcanota) Urubamba River Valley to the North-West of Cusco. At its South-Eastern end, closest to Cusco (Elevation: 3,400m), is the town of Pisac (2970 m) and at the North-Western extreme stands Ollantaytambo (2,790 m), which is furthest away from Cusco, but closest to Machu Picchu (2,430 m).

You can download a high resolution Sacred Valley Map here if needed.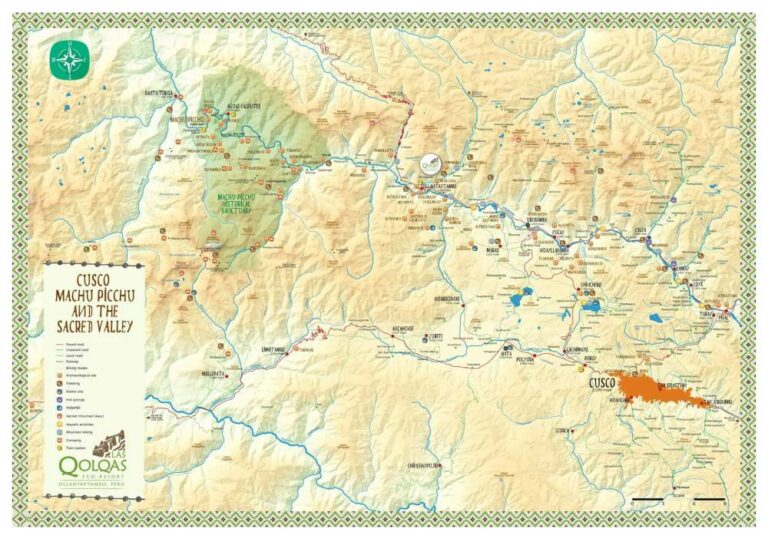 The Sacred Valley with Pisac to the East and Ollantaytambo to the West
Why is it Called Sacred Valley?
The reason why it was deemed sacred is because in Andean cosmovision, The Planet Earth is perceived as a Microcosm that mimics the Macrocosm of The Universe, and in that sense, they realised the Vilcanota river (Willqa Mayu or Sacred River) followed the trajectory of the River Snake (Amaru Mayu) / Milky Way. Thus making Willqa Mayu the twin, opposite and complementary sibling on Earth of the Amaru Mayu (Milky Way) in Heaven.

The Valley was also considered to be sacred because it was (and still is) so fertile. Over thousands of years (well before the time of the Incas), Peru's ancient civilizations mastered agriculture in the harsh Andean mountains. Amongst hundreds of varieties of plants they domesticated corn, potatoes, quinoa and kiwicha. This process started in the fourth millennium BC, contemporary to the civilization of Sumer in Mesopotamia.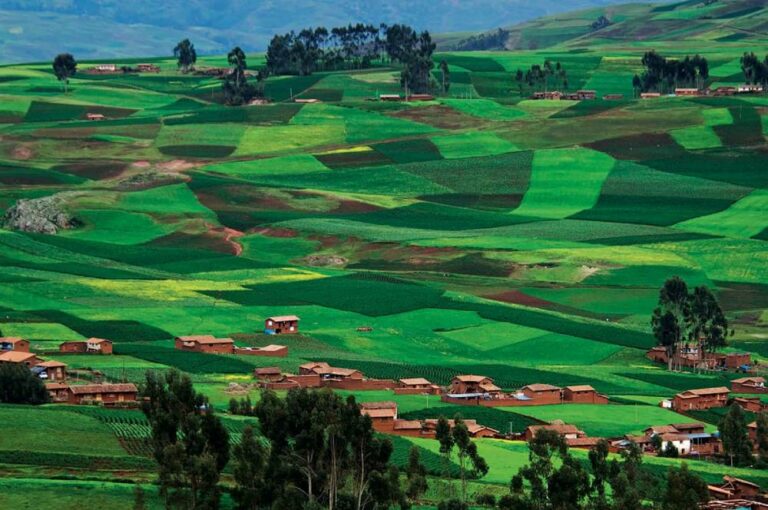 Potato fields near Chinchero
They developed complex irrigation systems and landscaped the steep mountainsides using elaborate terracing techniques. Much of which is still in use.
What do Tourists do in The Sacred Valley Peru?
The Valley of the Urubamba River is a treasure trove of:
1. Archaeological Site Visits: Pisac, Chinchero, Maras, Moray,Ollantaytambo … steeped in history and mysticism
2. Hiking Through Nature & on Inca Trails `Qhapaq Ñan´: Perolniyoc waterfall, Cachiccata & Inti Punku, Pumamarca and Inca Trail
3. Indigenous Markets & Authentic Villages in Chinchero, Pisac, Urubamba, Ollantaytambo and Patachanca
4. Adrenaline-filled activities such as Whitewater Rafting, Mountain Biking, or Zip-lining
5. Horseback Riding on Caballos Peruanos de Paso Fino (Peru's prized horses of light gait)
6. Spiritual Journeys with Andean Priests & Healers
7. Peruvian Food: Gastronomy of the highest caliber & for every taste
8. Wellness Retreats
9. Warm-hearted people, respectful and proud of their traditions.

There is so much to see and to do, that we will only be scratching the surface. Read on to get our recommendations on what to do and whether the activities are child-friendly, or not.

1. Archaeological Sites Steeped in History and Mysticism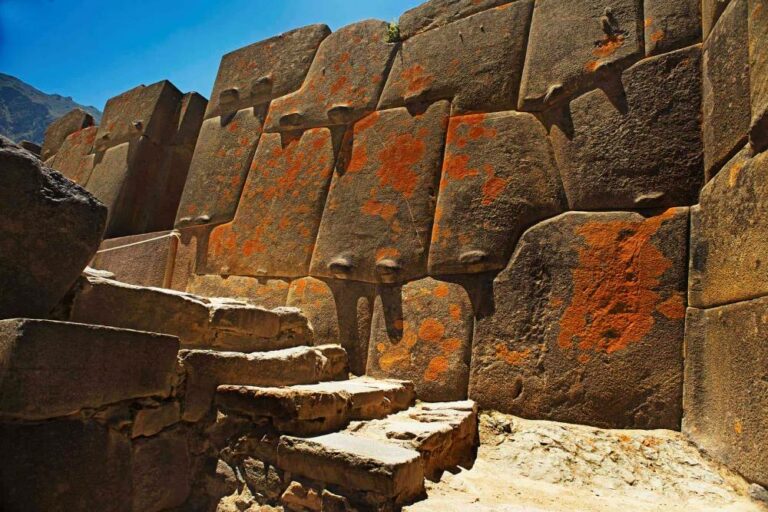 Cyclopean and Megalithic Stone Works from the Inca Empire on display in Ollantaytambo.
The four main sites of Pisac, Chinchero, Moray and Ollantaytambo can be visited by purchasing a General ticket PEN S/130 ($35) for foreigners, S/70 ($19) for Peruvians. Students and children pay S/70 and S/40 respectively. This ticket also grants access to many sites and museums in Cusco (or Cuzco).

If you do not intend to visit Cusco then you can purchase a partial 'Ticket Circuit 3' for S/70 or S/30 (foreigners / locals respectively). Ticket Circuit 3 offers no further discount for students or minors. Peruvian Citizens pay S/40. Tickets can be purchased at the entrance to any of the archaeological sites and are child-friendly.
A) Pisac – (2970 m)
This Inca Citadel controlled the passage to the valley's South-Eastern entrance from the jungle beyond Paucartambo. It is an impressive Military, Religious and Agricultural complex. On display are the engineering and highly aesthetic architectural styles achieved by the Incas.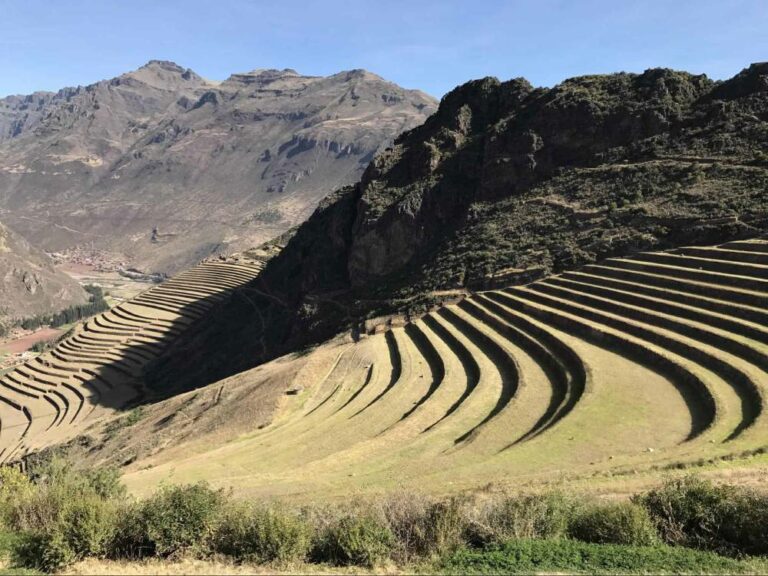 Agricultural Terraces forming part of the Archaeological complex of Pisac
How to Go to Pisac from Cusco
Pisac is a 34km (50 minute) drive from Cusco along Route 28G.
The complex can be visited in under two-hours and we recommend walking down to the Pisac Market from the Inti Watana ceremonial area, along a stream and a burial site (which takes about 1.5 hours).
B) Chinchero – (3762 m)
Better known for its market and weaving cooperatives (to be covered in section 7), this village is a must stop on the way from Cusco to Urubamba. It is a 30km drive to the North-West with breathtaking views of the fields and lakes bordering the Pampa de Anta.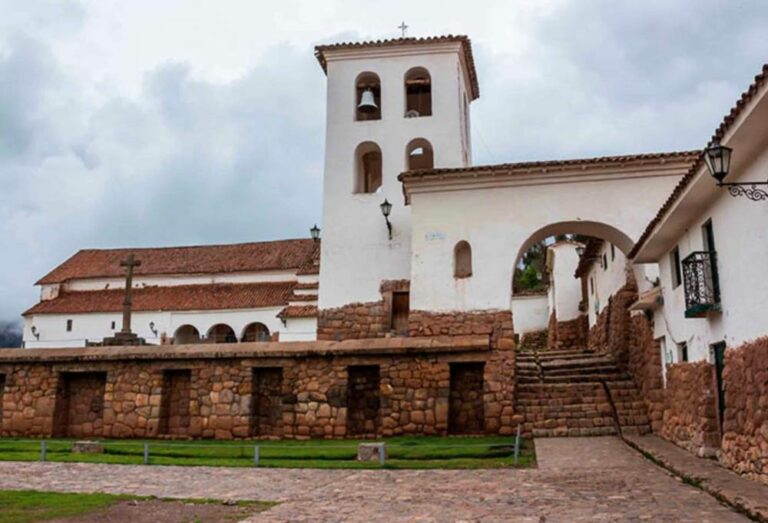 The Church of our Lady of Nativity in Chinchero is well worth the visit for its frescoes of the Cusco school of painting.
Chinchero was an important religious and military bastion during the rule of the Inca Tupac Yupanqui, who had an elaborate complex built for him to hold court.

What is in Chinchero to See?

Visit the Church of our Lady of Nativity and enjoy the lovely Baroque frescos of 'La Escuela Cusqueña'.
Chinchero Market where you find a few bargains at the open-air market on the esplanade directly in front of the church.
Walk along the agricultural terraces and loose yourself amongst the Inca walls of the temple that now form the foundations of the church.

C) Salinas de Maras or Salineras de Maras (3,387 m)
A further 20 km to the North-West of Chinchero is the town of Maras and the thousands of shallow Salt Pools it is famous for.
Not much has changed in the extraction process. A stream of salty water is diverted on to thousands of shallow water pools. Then water is allowed to evaporate, leaving a thin crust of salt crystals, which is then scraped carefully and processed by MARASAL, a Private Company owned by some of the villagers.
Sal de Maras, this pink-coloured salt is sold in packages of varying sizes and used for cooking, preserving food, body rubs, etc.
How far is Salinas de Maras from Cusco? About an hour drive from Cusco and twenty minutes from Chinchero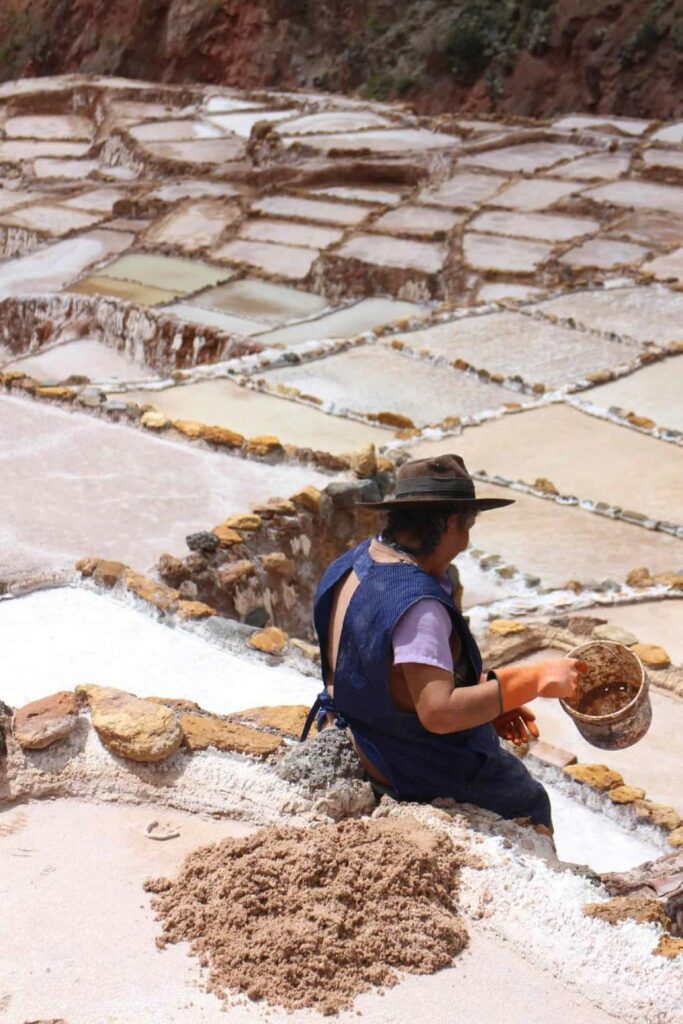 Extracting salt by letteing water evaporate from shallow pools
D) Concentric Circles of Moray (3482 m)
What was Moray Used For?
Located a 15 minute drive West of Maras lie these beautiful concentric terraces, which have not been fully understood.
The most common theory argues that they were part of a center for Agricultural experimentation. Their unusual shape and topographic layout result in a 15-degree temperature differential between the higher, outer circles and the lower, inner circles. The Moray terraces have a complex irrigation & drainage system, making it very plausible for the Incas and their predecessors to study how plants such as corn or potatoes developed at different temperatures.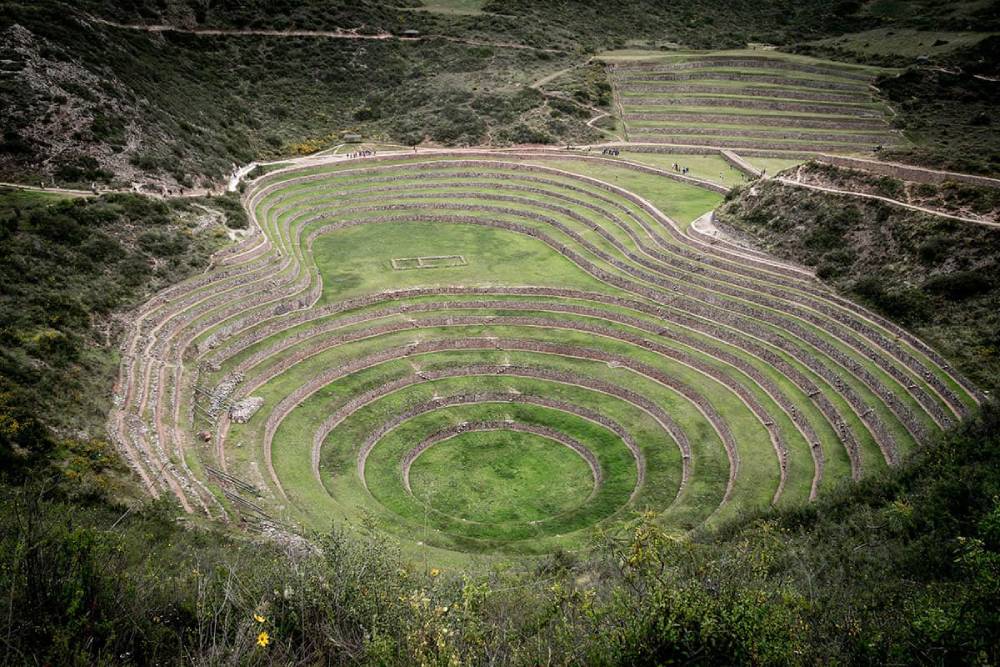 Who says science cannot be beautiful? Concentric Moray Terraces
E) Ñaupa Iglesia/Choquekilla (3000 M)
Is a Huaca, or Sacred place in a cave perched atop agricultural terraces above the Cusco-Ollantaytambo railroad. It can be reached by taking the road between the towns of Pachar and Huarocondo. No entry ticket is required to visit, but you probably need a guide to find it.
Breaking down the names by which this shrine is known: In Quechua 'Ñaupa' means 'Ancient'; 'Choque' means 'Gold' and 'Killa' means 'Moon'. So the place is called 'Ancient Shrine' as well as 'Golden Moon'. It is a highly mysterious and spiritual site, with the angles of the carved rock-faces and the alignment of the niches following advanced mathematical calculations and astronomical observations.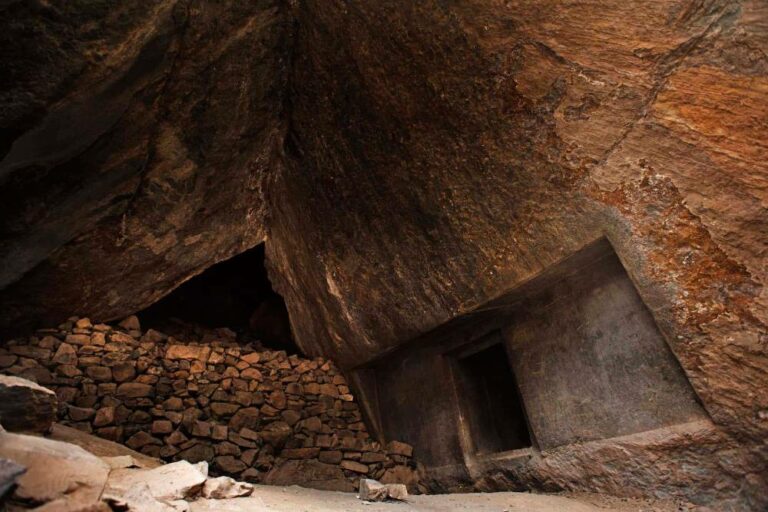 Inter-dimensional Portal? The cave of Ñaupa Iglesia
This pyramid-shaped cave was cut from the living-rock.
One of its faces contains a finely-carved portal to another dimension. At the mouth of the cave there is an altar made of a single piece of blue basalt, polished with amazing craftsmanship.
When visiting the cave, one immediately feels the energy and mystical powers the site emanates. Places such as these were entrances to the underworld and already considered ancient in the times of the Incas.
To this day, curanderos/ Shamen use the site to make offerings to the Pachamama (Mother Earth). This is a place of deep religious/energetic significance.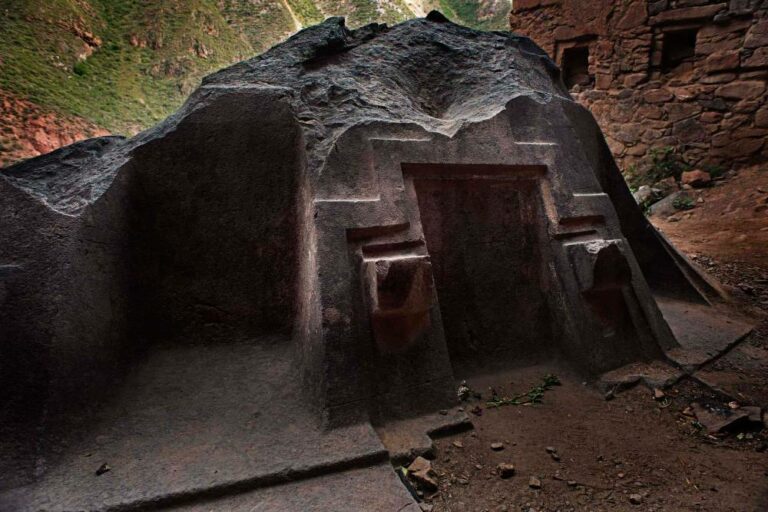 Blue stone Altar in the shape of a Chakana (Andean Cross) at Ñaupa Iglesia
Here the guides at Las Qolqas Eco Resort
Organize daily activities within easy reach of Ollantaytambo. Ñaupa Iglesia can be visited as part of a half a day hiking trip.
F) Ollantaytambo Archaeological Park (2792 M)
This is a complex site that consists of agricultural terraces; Qolqas (Inca grain & textiles storage rooms); Religious temples of Cyclopean/ Megalithic Masonry such as the temple of the Sun; Sculpted rocks that measured the passage of time and the seasons; a military complex and Royal baths.
Ollantaytambo is strategically located in the most fertile part of the Sacred Valley: At the intersection of the Urubamba and the Patacancha rivers.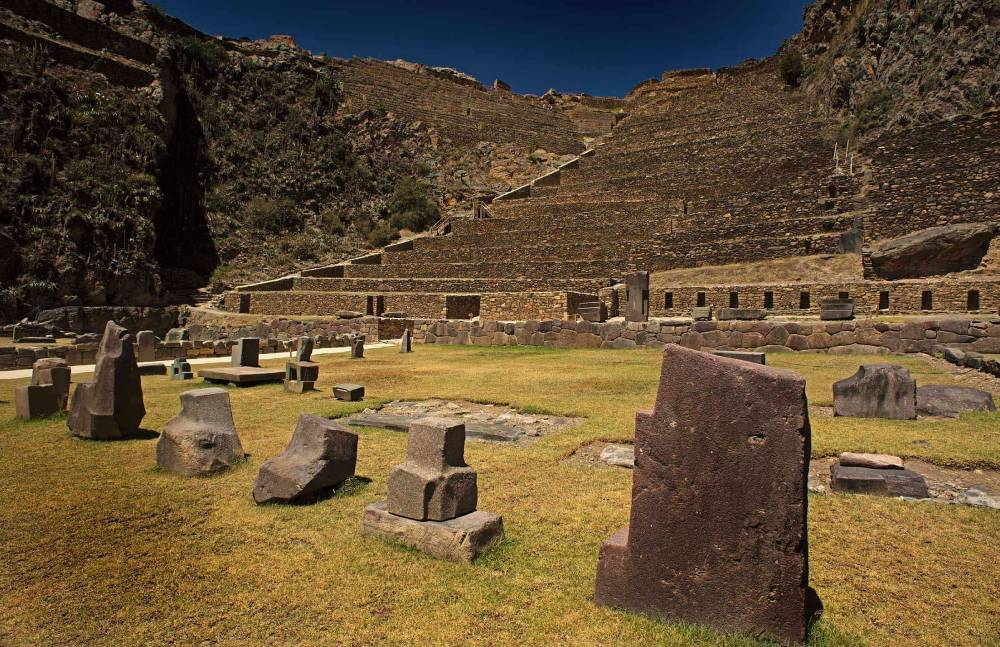 Archaeological complex of Ollantaytambo
Its wide riverbanks are perfect for large-scale farming of corn. The steep mountain sides offer an optimal vantage point to guard the passage of the Patacancha valley, beyond which lies the jungle of La Convención. This is also one of the rare sites in which the Incas enjoyed a military victory over the Spanish Conquistadors and where Manco Inca mounted a resistance before fleeing to Vilcabamba to the East.
The site takes at least two hours to visit and you can spend an entire afternoon in awe of what you will find.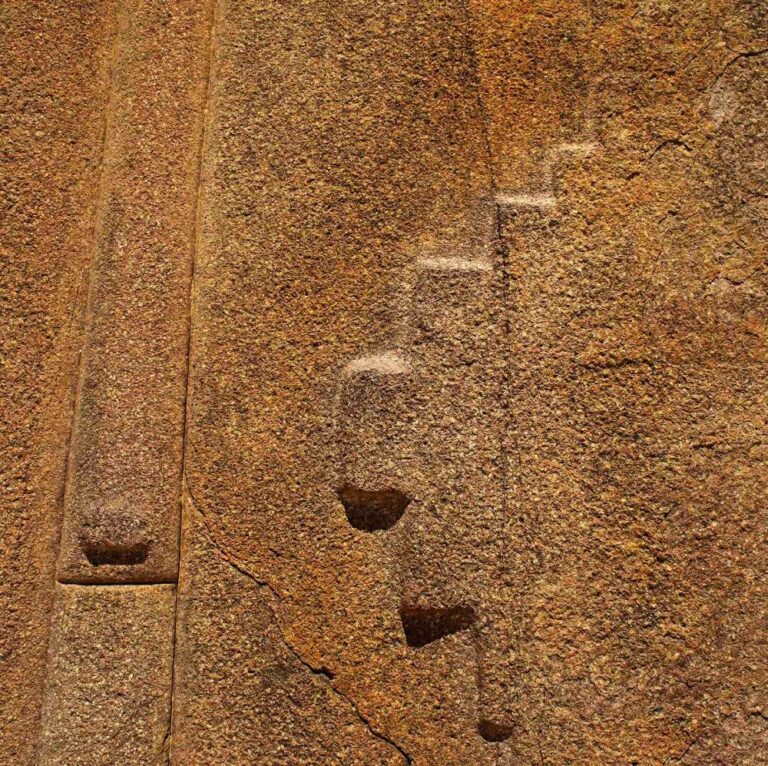 Detail of Megalithic masonry – Templo del Sol, Ollantaytambo
These 80-ton rocks of pink granite were transported from a Quarry 10km away, on the other bank of the Urubamba river.
Amongst the highlights of the site is the Temple of the Sun with its megalithic rocks, so perfectly carved that not even a sheet of paper would fit between these 80-ton boulders. This temple is aligned so that on the winter solstice (June 21) the first rays of light hit the Chacana relief carved on the rocks.
Other gems are the beautifully carved cyclopean stone walls that lead up to the temple. They are some of the finest examples of this form of architecture in all of Cusco.
The walls of these buildings have withstood the passage of time as well as several earthquakes over the centuries. It is not fully understood how the Incas (or their predecessors) managed to carve such large, irregular stones three-dimensionally and with such precision.
Ollantaytambo is also one of the oldest continuously inhabited villages in the Americas and has not changed much since the Spanish conquest. This is possibly the most picturesque town in the entire Sacred Valley. The town is quite literally a living museum and a test-bed for how tourism can sustainably go hand in hand with the development and well-being of traditional communities. See Plan Wallata.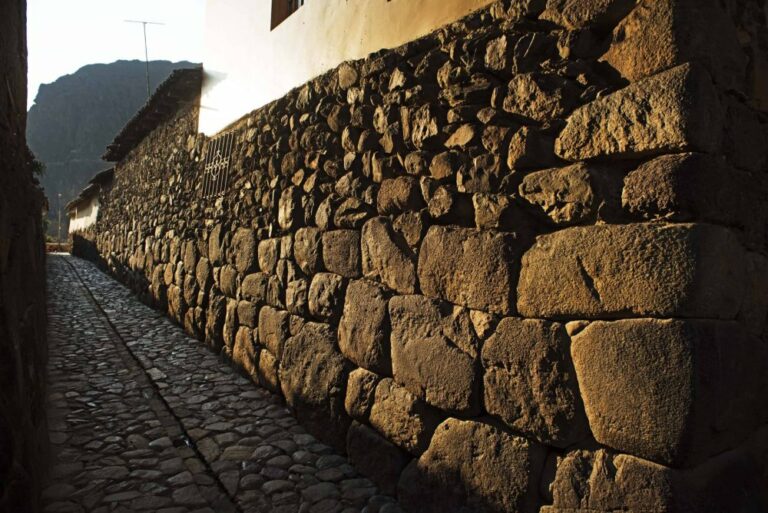 A street in Ollantaytambo. Inca and Spanish architecture have remained largely unchanged for five centuries.
2. Amazing Hikes Through Nature & on Inca Trails ('Qhapaq Ñan')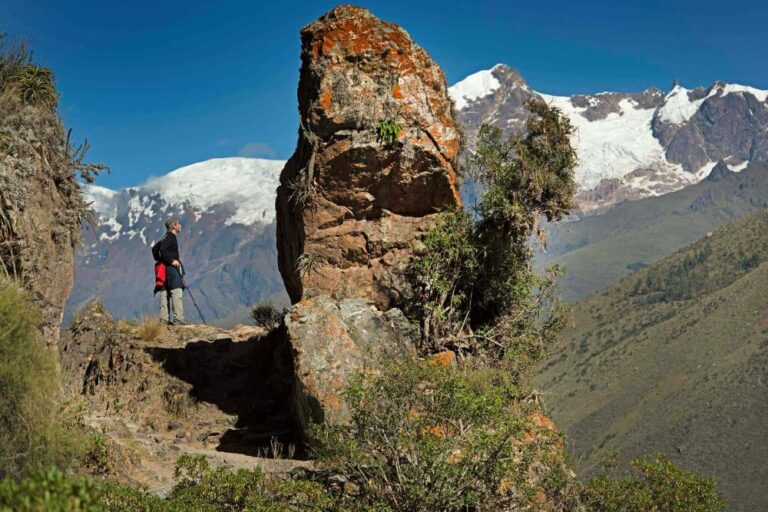 The Hike to Cachiccata from Ollantaytambo is challenging, but very rewarding, taking in the view of Apu Veronica
The Hike to Cachiccata from Ollantaytambo is challenging, but very rewarding, taking in the view of Apu Veronica
There are dozens of amazing hikes of varying degrees of difficulty. Which one to choose depends on how much time you have, how fit you are and how much your knees can endure.
We recommend a good pair of hiking shoes that have been worn-in before your trip, a set of walking sticks with rubber tips, for otherwise you may not be able to use them, a good hat, sun screen, a re-usable water bottle, layers to dress up or down because temperature changes can be significant and a good camera (or mobile phone).
Intermediate - Children 12+
Intermediate - Children 12+
I. Hike from the Pisac archaeological complex (3,200m) down to the Arts and Crafts market of Pisac (2970 m).
This beautiful hike takes between 1 and 1.5 hours and is Child-friendly.
The hike starts at the Intihuatana (Place to tie up the sun: Sun-clock) and descends among fortifications, agricultural terraces, along a stream and an Inca burial site.
You do not need to be particularly fit, but if you have sensitive knees we would advise you to use walking sticks.
Once in Pisac visit Ulrike's café, a block from the main square, and try their carrot cake and coffee.
II. Hike to the Perolniyoc waterfall (3300 M)
The town of Socma is about a 30-minute drive from Ollantaytambo. From there it is about an hour's hike along a winding path to this glorious waterfall. A further 1.5 hour's climb and some 6 km in total is the Inca fortress of Raqaypata. Perched just above the waterfall stands a commanding fortification of military and administrative use. It guarded the pass from Huarocondo to Ollantaytambo as well as to the quarries of Cachiccata.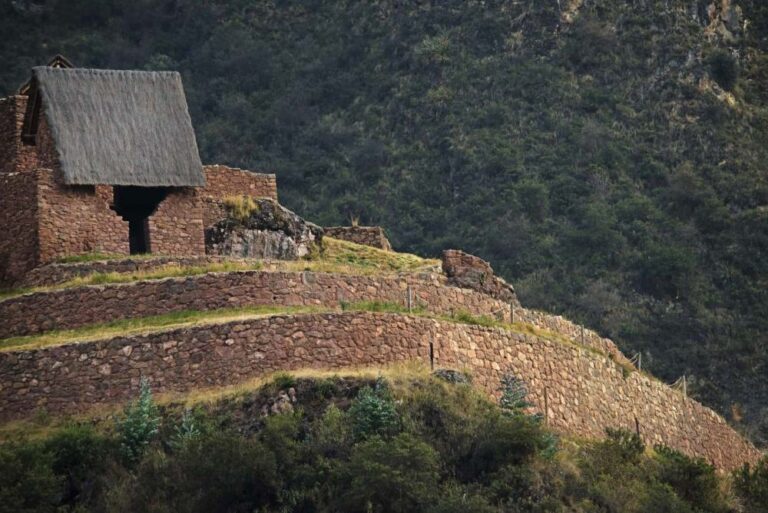 Perched above the waterfall of Perolniyoc stands the Fortress of Raqaypata, a Heart-shaped citadel with a ceremonial rock in the middle.
The journey from Soqma to the fortress and back takes roughly 3.5-hours. It requires a moderate level of fitness and is not recommended for children younger than 10-years of age. Here a set of walking sticks and hiking shoes with good grip are also recommended.
Upon completion of this hike we suggest a visit to the town of Huarocondo. The main square has a series of restaurants that specialize in suckling pig and tamales / humitas. The presentation is not for the squeamish, but the adventurous eater will be rewarded with a very typical dish that will leave a long-lasting impression.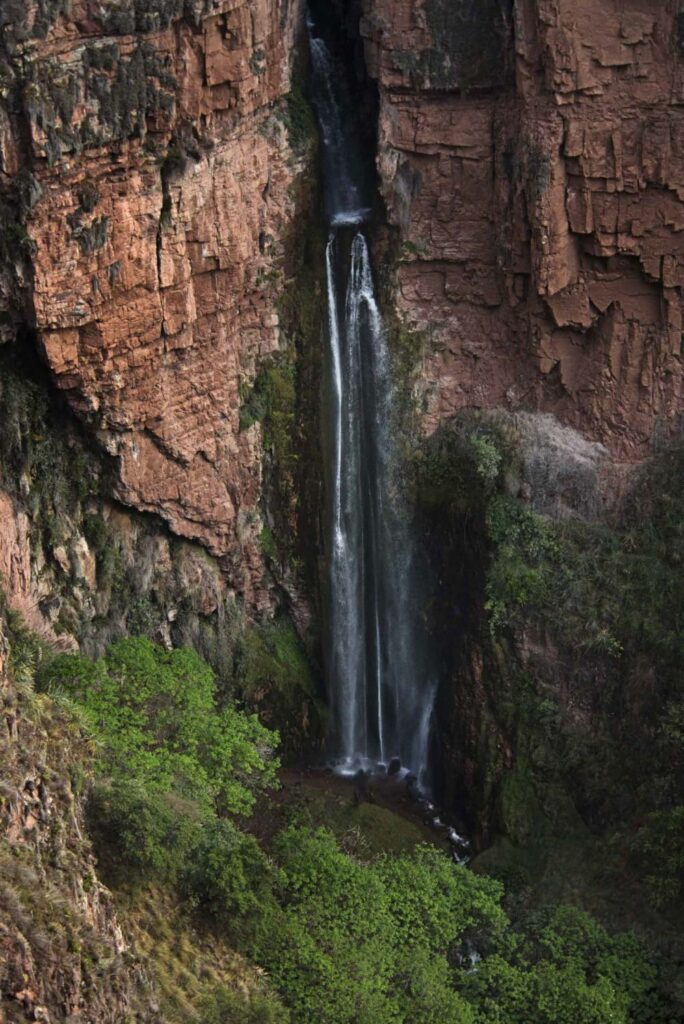 Perolniyoc Waterfall. This 80 meter waterfall is an hour walk from the town of Socma, halfway between Pachar and Huarocondo.
III. Hike to the Quarries of Cachiccata and the shrine of Inti Punku (2700 to 3900 M)
This is one of the most physically demanding hikes of the Sacred Valley. You should plan on a six-hour journey. We only recommend it for visitors that are used to hiking for extended periods of time and are relatively fit. It is not recommended for children younger than 12 unless you hire horses to assist you on the way up.
The hike starts at the Inca suspension bridge at the entrance to Ollantaytambo. It is an 18km round-trip to Inti Punku and the vertical climb is 1,200 meters so the average gradient is 13.3%, but some parts are significantly steeper.
Fatmap Cachiccata and Inti Punku Ollantaytambo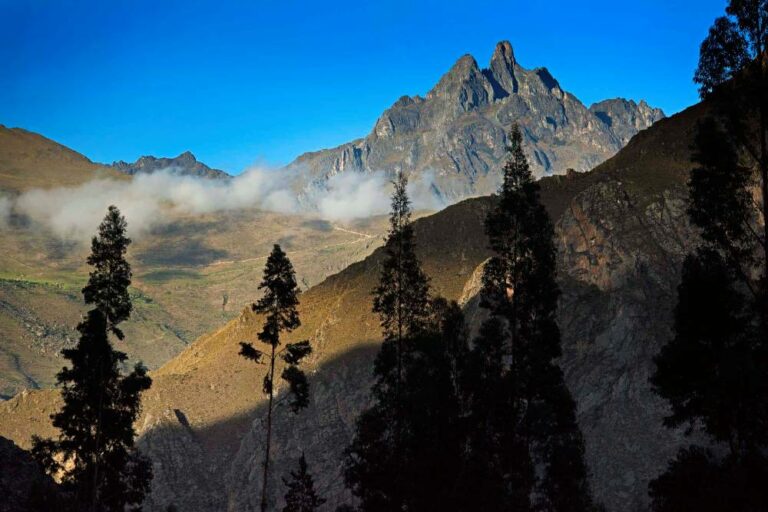 The trail to the Inti Punku shrine is barely visible under the mist in the distance
Along the way, the visitor will be treated to views of Ollantaytambo, of the Agricultural pyramid of Pacaritampu, and of the snow-capped mountain of Veronica, behind which is Machu Picchu.
The trail will take you past the two quarries from which the megaliths used to build the Ollantaytambo Temples were extracted. Grey Basalt and Pink Granite were literally peeled off the face of Yana Orco (Black mountain) and rolled down the mountain, across the river and over a 1 km ramp up the hill to their current resting place. It is difficult to comprehend how they managed to move 80-ton stones without wheels and to carve such hard rocks to perfection without the use of any metal harder than bronze.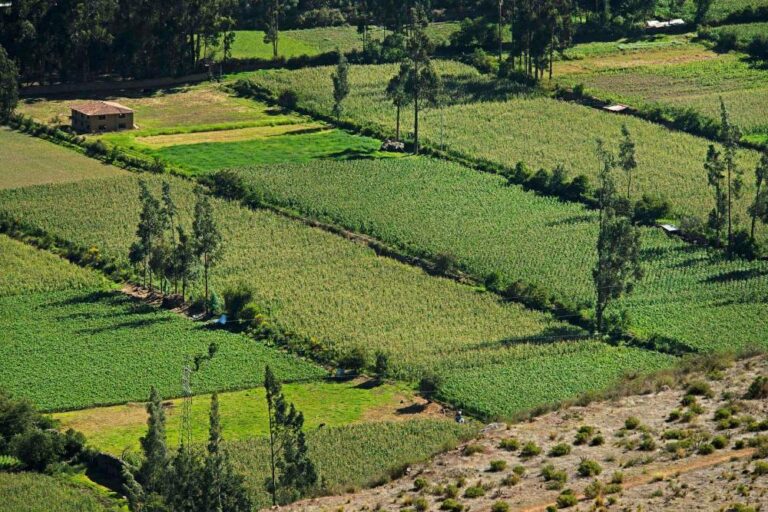 Pyramid of Pacaritampu as seen from the trail to Cachiccata
Beyond the quarries stand the remains of an Inca settlement where the stone masons and possibly astronomer-priests used to live. This is generally a good place to stop for lunch. Take plenty of water and snacks. Energy bars, fruits and nuts.
The final stretch is challenging, but the view awaiting you is something to behold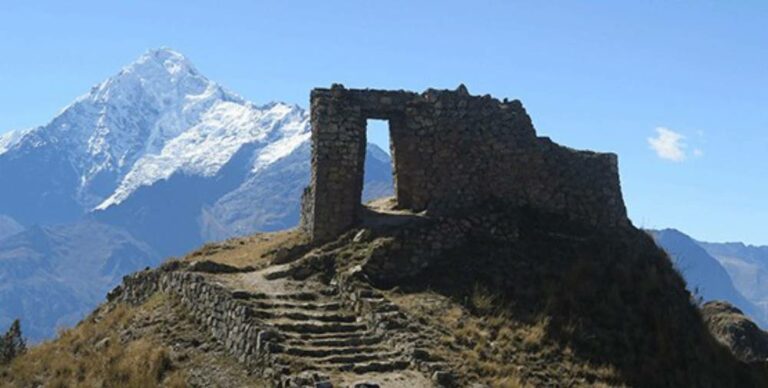 Shrine of Inti Punku (Sun Gate) with Apu Veronica in the background
IV. Hike to Pumamarca & on a Qhapaq Ñan (Inca Trail) towards Ollantaytambo (2800 to 3500 M)
The Pumamarca Military complex, dates back from approximately 900 AD. It was built by the Wari culture who occupied these lands 3 to 4 centuries before the Incas. This place is strategically positioned to guard the access to Ollantaytambo from the eastern reaches that lead to the jungle. The fortifications point to its military use and there is even evidence of fire damage in the distant past.
Fatmap Pumamarca Trek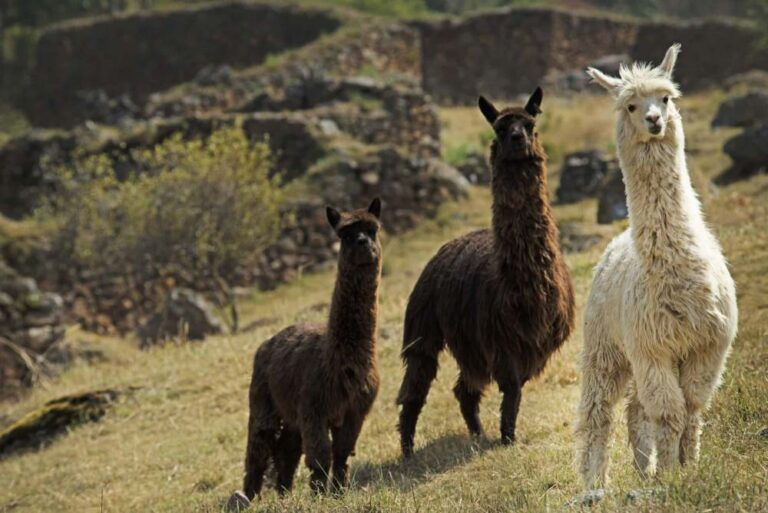 These alpacas are often the only visitors you will encounter in Pumamarca.
The round-trip hike starting in Muñaypata is about 13 km. The vertical climb is just over 700 meters and you should plan on a 3 to 4-hour journey. This is an intermediate climb, which requires a moderate level of fitness. Older visitors and groups with children younger than 10 can be driven to the site and skip the climbing part. The way down is the best part anyway.
From Pumamarca ruins you head back towards Ollantaytambo on a Qhapaq Ñan. These were the imperial roads used by the Inca civilization to connect the four corners of their empire. This is a gorgeous walk, which can be done by most people. Hiking shoes with an anti-slip sole are highly recommended as are walking sticks.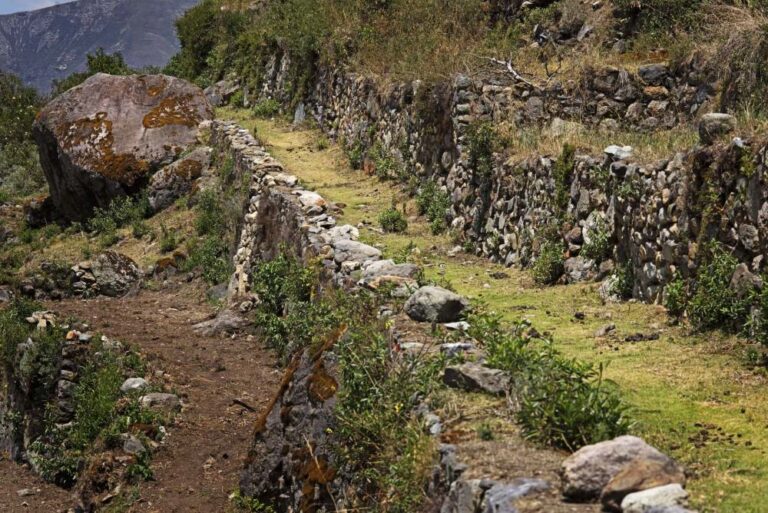 Qhapaq Ñan – Inca Trail in continuous use for close to 1,000 years.
The trail takes you along two imposing sites of agricultural terraces:
The first is Musqa Pukyo, which is roughly 300 vertical meters from top to bottom. If you have a strong set of legs you can even attempt climbing those steps.
The second site is more refined. Media Luna's terraces have different shapes. Viewed from above one can easily spot a knife, a spoon, a pitch fork, even tweezers and a Tumi, or ceremonial knife used by the Incas.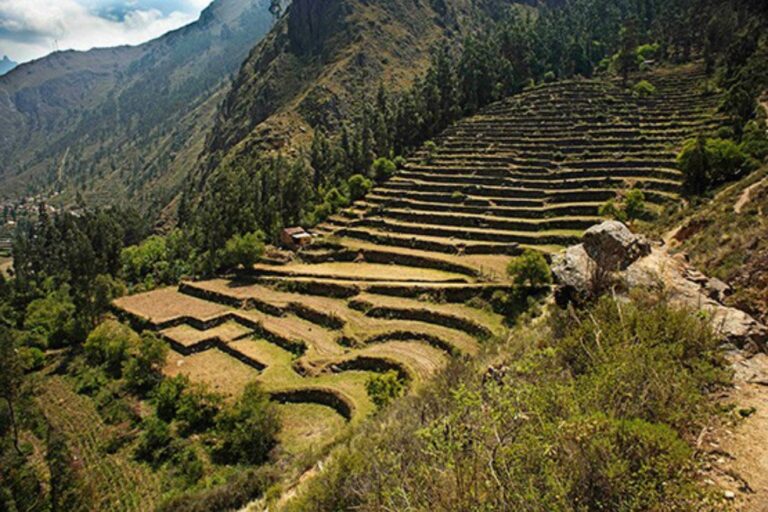 Andenería de Media Luna (Half-moon Terraces)
At Las Qolqas Eco Resort Activities we have a dedicated team of local guides who specialize in offering daily visits to all the hikes in and around Ollantaytambo.
3. Indigenous Markets in Chinchero, Pisac, Urubamba, Ollantaytambo and Patachanca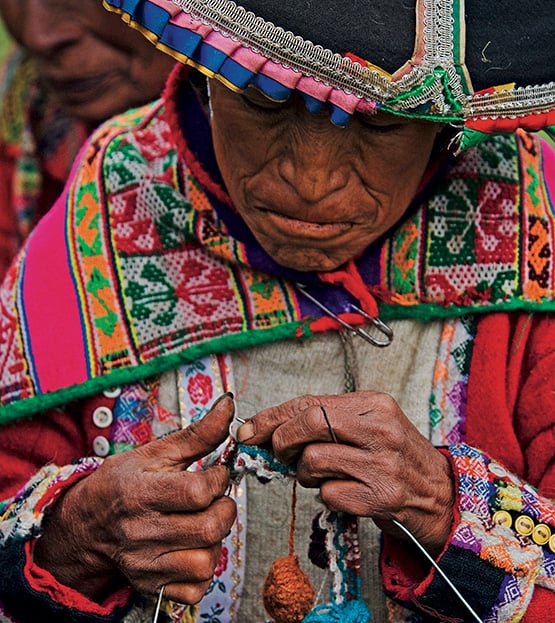 Weaving traditions kept alive in the village of Chinchero.
I - CHINCHERO MARKET
Has the best textiles in the region. Good value for money and weaving workshops. Make sure you put your bargaining hat on and you are bound to find some good deals.
II – PISAC MARKET
It is a big market, but has become rather commercial. Many of the arts & crafts being sold are no longer hand-made. Some are even imported from China so buyer beware!
III – URUBAMBA MARKET
The largest produce market in the Valley. Great value for money for fruits and vegetables.
IV – OLLANTAYTAMBO MARKET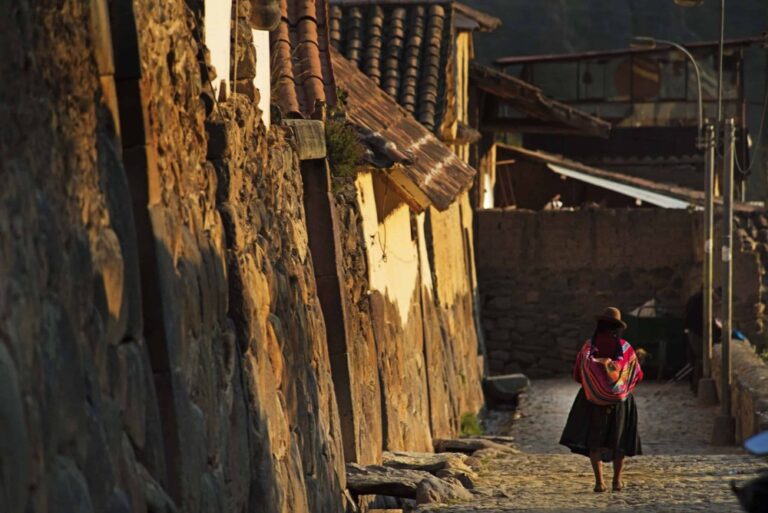 Villager on her way to the Ollantaytambo Market.
The produce market - behind the municipality - is a good place to stock up on some fruits, nuts and coca leaves to chew on your hikes.
The market in front of the archaeological park is a small version of the Pisac market.
V – PATACANCHA MARKET (Temporarily closed)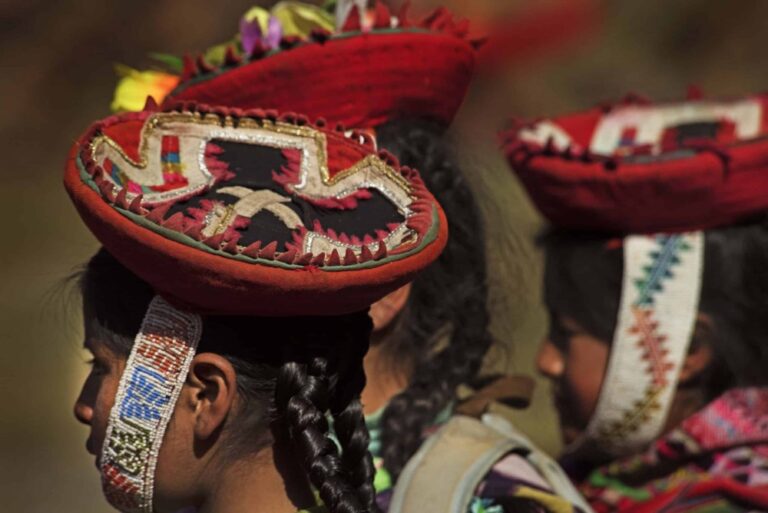 The ladies of Patacancha wearing their traditional hats
The village of Patacancha has defended its traditions fiercely. Their colourful attire is full of symbolism. Ladies signal their availability by wearing different types of flowers on their hats.
The women in Patacancha are renowned for the quality of their weaving. The men are tough and form the backbone of the porters that provision the Inca Trail.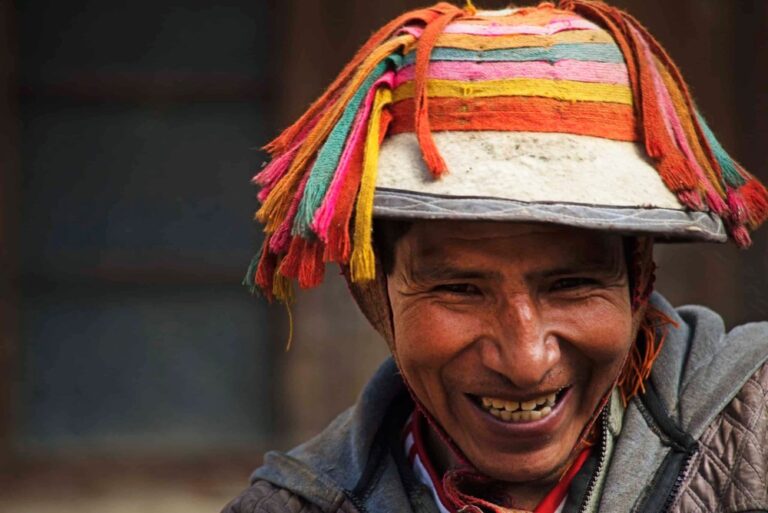 Porteador (Porter) from Patacancha. These men form the backbone that supports the Inca Trail
Their market sells their distinctive textiles, which have a strong orange tint. On weekends you may even enjoy a match of 'Futbol Macho', which is a very rough version of the traditional football game.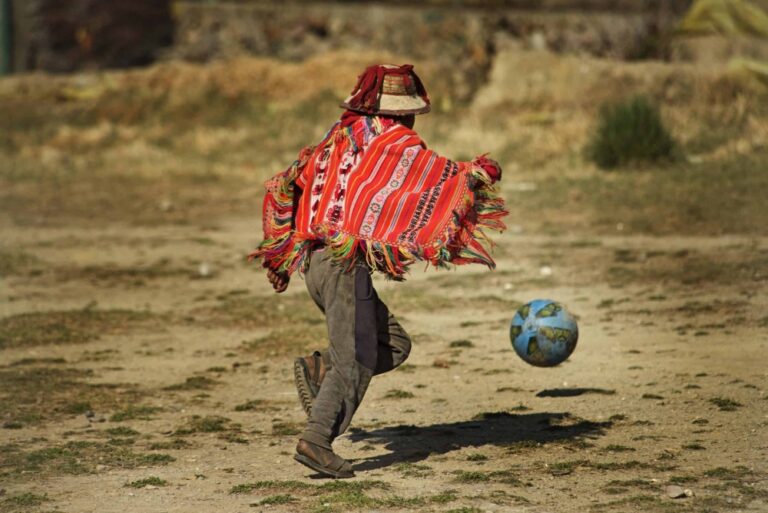 In Patacancha they play 'Futbol Macho', a particularly rough expression of the game
Sunday, Tuesday, Thursday
4. Adrenaline-Filled activities such as Whitewater Rafting, Mountain Biking, or Zip-lining
There are numerous adventure activities to be done in the Sacred Valley. These come with certain risks and we therefore recommend a few operators that we believe take safety seriously.
I) Mountain Biking:
At Las Qolqas Eco-Resort we offer a 20km biking tour on Front-suspension Mountain Bikes from Muñaypata to Cervecería del Valle Sagrado in Pachar.

This trip can be easily ridden by intermediate bikers.
Fatmap Mountain Biking Ollantaytambo - Pachar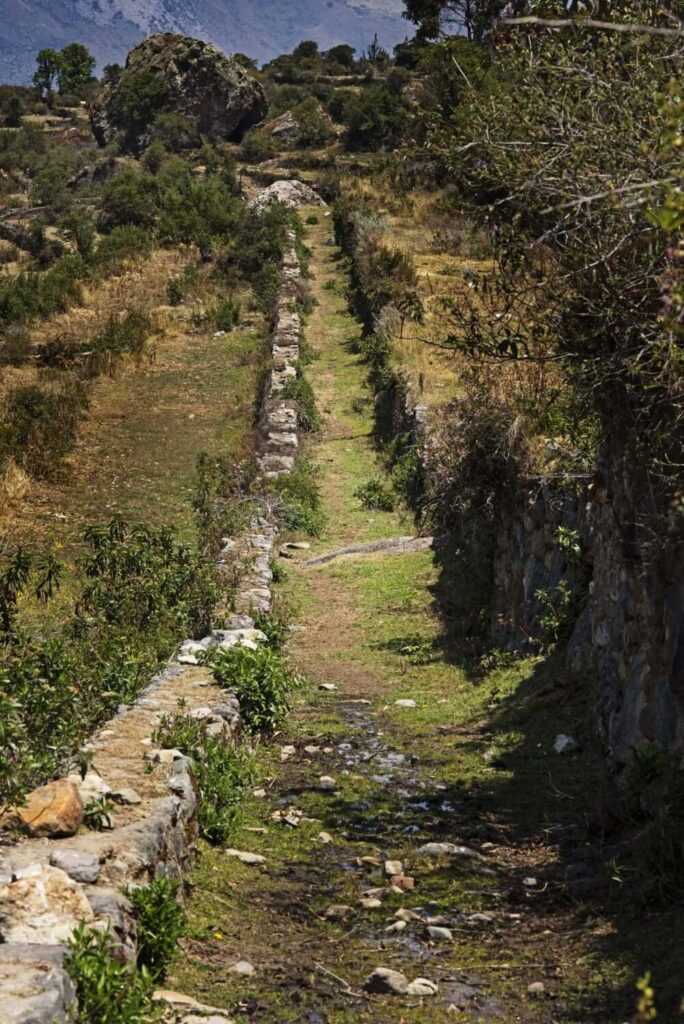 Trail between Ollantaytambo and Pachar. Ideal for mountain Biking towards Cervecería del Valle.
II) White Water Rafting
For White Water Rafting, besides Amazonas Explorer, we also recommend Apumayo Expediciones.
Zip line and via Ferrata:
VIA FERRATA
5. Horseback Riding on Caballos de Paso Peruano (Peru's prized horses of light gait)
The horses of 'Paso Peruano' are a local breed of horses, that provide a very smooth ride. This is due to their four-beat, lateral gait. Horses were introduced to Peru by the Spanish conquistadors. They were bred over centuries primarily for transportation over long distances. Comfort and temperament being preferred to speed. This resulted in a breed that is rather docile and exceptionally smooth to ride.
Along the Urubamba River there are numerous lovely rides of easy to moderate levels of difficulty.
We recommend
Luna's Horses
.
6. Spiritual Journeys with Andean Priests
The people of the Andes are incredibly spiritual. Catholicism was introduced with the arrival of the Spanish Conquistadores and it is widely practiced to this day. However, the local population never gave up its ancestral beliefs. They continued to worship the
Pachamama
(Mother Earth) and, to this day, it is common to make an offering to her in order to bless a harvest, a new venture, a building, or a wedding. She is associated with fertility and abundance. Such ceremonies are full of symbolism and can be deeply touching if practiced by a reputable 'Maestro'.
Intiwari Yatiri is a friend of
Las Qolqas Eco Resort
. He happens to be an accomplished musician with an extensive collection of ancestral instruments. Be it wind, string or percussion, he will take you on a spiritual journey that will touch your soul.
To book a private session look him up on
Facebook Intiwari Yatiri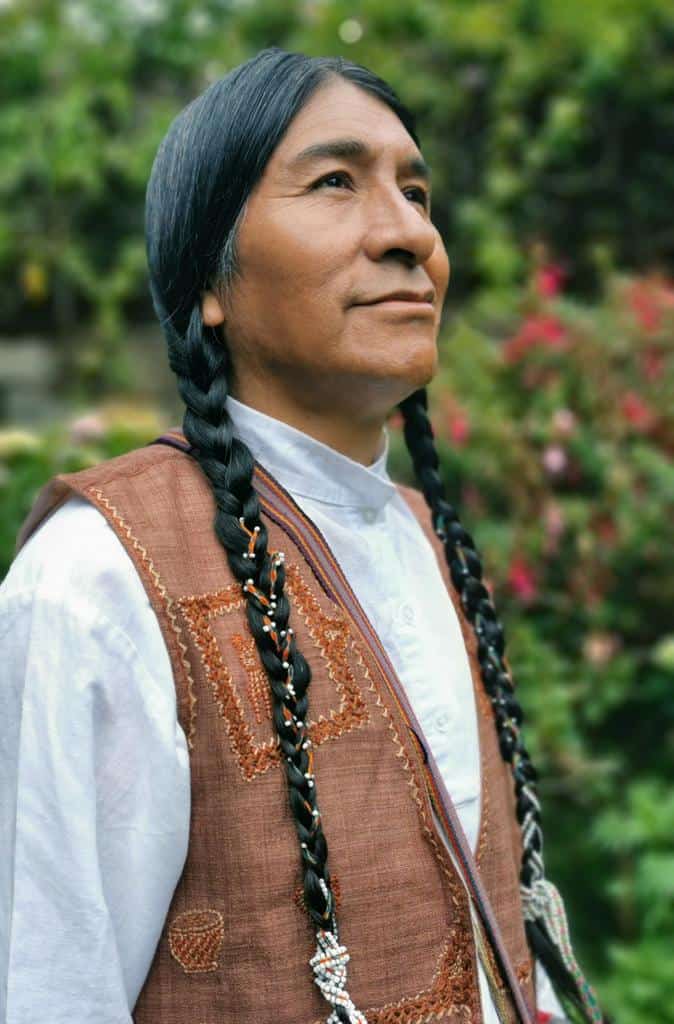 7. Peruvian food: Gastronomy of the Highest caliber & for every taste
Peru's cuisine has gone from strength to strength. Chefs of international renown such as Nobu, Gastón Acurio, Virgilio Martínez Véliz and Mitsuharu Tsumura became famous in the past twenty years, but the truth is Peruvian cuisine was the original 'Fusion' food.
When the Spanish first arrived in Perú, they brought with them their Moorish cooks. They mingled their Northern African and Spanish recipes with the dishes and new ingredients they found in Perú.
Thousands of varieties of potatoes, Corn, Chili, Quinua, Lucuma, Chirimoya, and on and on. Then came waves of Chinese, Italian and Japanese immigrants, each bringing their own foods and traditions with them. The result was one of the most varied cuisines in the world, incredibly refined, and made more so by the freshness of the ingredients used.
The Sacred Valley Peru has some excellent restaurants. Below are our recommendations for memorable experiences in peruvian restaurants:
Moray:
Restaurante Mil Centro
🔗
Urubamba:
El Huacatay
🔗
Urubamba:
Killa Wasi
🔗
Urubamba:
Tierra Cocina
🔗
Ollantaytambo: Pututu 🔗
Ollantaytambo:
El Albergue
🔗
8. Luxury Wellness Retreats in the Sacred Valley Peru
Here we mention some of our recommendations of Cusco hotels or resorts, Sacred Valley Perú hotels near Sanctuary Machu Picchu, where you can take pleasure in wellness and Spa:
Las Qolqas Eco Resort Spa
Hotel Sol y Luna
Hotel Tambo del Inca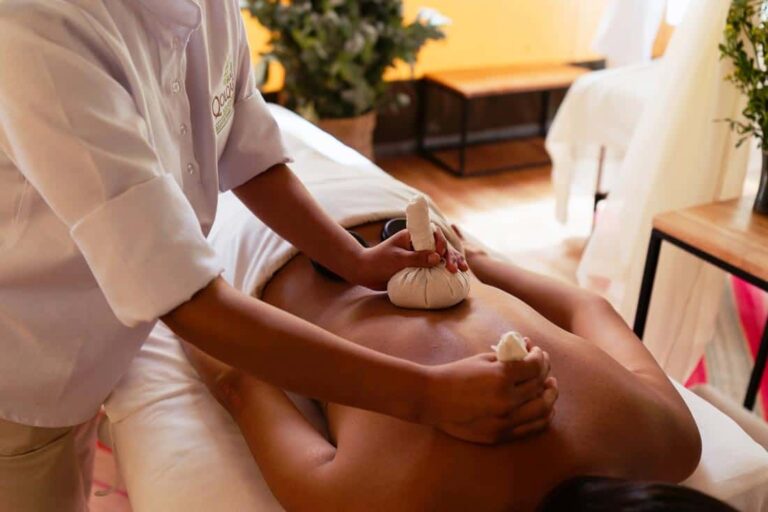 Hot Stone Massage at Las Qolqas Eco Resort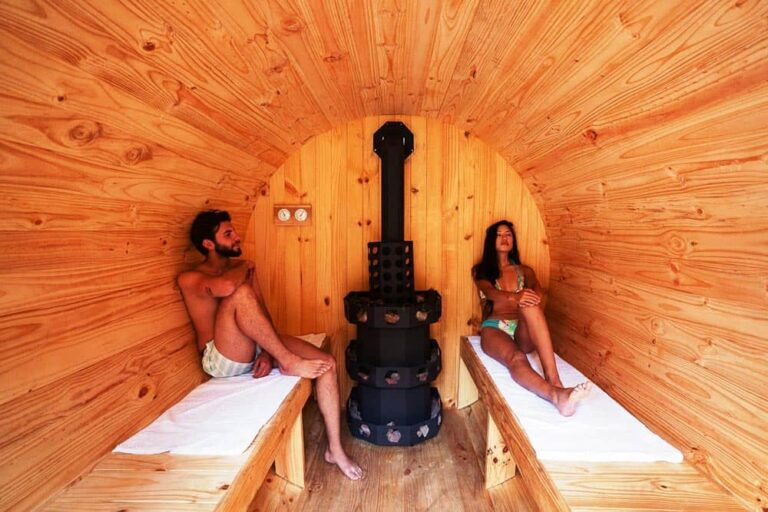 Barrel Sauna at Las Qolqas Eco Resort
9. Warm-hearted People Respectful and Proud of their Traditions.
They can be found wherever you go in the Sacred Valley Peru. Just treat them with respect and offer them a smile. In return they will welcome you with open arms and share with you their incredibly rich traditions & culture.
Enjoy your journey.
Text and tips by Las Qolqas Eco Resort
Most Photos by
Walter Wust
.